Production and Quality Control
In 2016 MQP took the strategic decision to enter into partnership with STNM to secure access to their advanced manufacturing capability, with the latter taking a 70% shareholding in MQP International.
STNM, a grain refiner is listed on the Shenzen stock exchange with a turnover in excess of $1 billion, produces grain refiners in a state-of-the-art modern production facility producing 24,000 tpy. This will increase eventually to around 42,000 tpy making STNM one of the largest grain refiner and mater alloy producers in the world.
Following the production of batches of grain refiner MQP, uniquely, uses Opticast, and ensures that ALL batches of Optifine meet our exacting standards of quality and efficiency. Optifine is the only grain refiner produced with a guarantee of its efficiency by applying the Opticast Nucleation Performance Test. This test is very precise and closely aligned to casting conditions than other cooling tests currently performed for grain size measurement. The laboratory testing remains in Europe and under the exclusive control of MQP technical staff.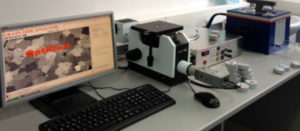 Opticast is exclusively available to MQP, so if a grain refiner has not been quality tested by MQP, with Opticast, it is NOT Optifine.  For more information go to our contacts page and send us an e mail or alternatively call us.