GRAIN REFINEMENT
Optimum and powerful grain refinement is a huge asset in advancing melt quality and MQP supplies an exceptionally powerful TiBor grain refining rod known as Optifine.
Optifine is a highly effective grain refiner and can achieve the level of refinement needed to avoid ingot cracking at up to 80% lower addition rates than standard TiBor grain refiners. This results in improved quality and reduced operating costs over a wide range of aluminium alloy compositions.
Optifine is now in routine usage in more than 30 major casthouses worldwide in the production of over 3million tonnes of aluminium alloys, annually, with outstanding results.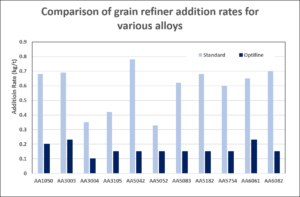 By using Optifine, the addition rate can be decreased by 70% compared to standard TiBor grain refiners, resulting in a 50% reduction in the cost for grain refinement. See how much can be saved using our calculator.
The purpose of grain refinement is to obtain a grain size in the final slab or billet that prevents a cast from cracking during casting and subsequent treatment. At MQP we believe this should be done using the minimum amount but in order to do this, the grain refiner must be highly efficient.
Optifine has a number of attributes the make it an exceptional, highly efficient grain refiner:
A greater number of active grain refining particles
Limited number of large boride particles and agglomerates added to the melt
A restricted total length of oxides of 500μm
A higher population of 1µm-3µm nucleating particles
A narrower particle size distribution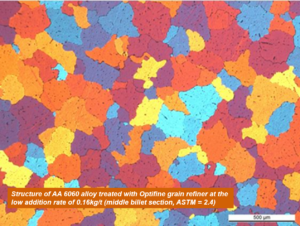 The production operates under very strict process controls and this ensures that Optifine does not have the huge variability in grain refining efficiency normally seen in standard grain refiner, resulting in improved metal quality and reduced operating costs over a wide range of aluminium alloy compositions.
Further benefits of adding less grain refiner.
MQP is now part of the STNM group, a leading manufacturer of grain refiners, master alloys and Aluminium alloy wheels. STNM is listed on the Shanghai stock exchange with an annual turnover of $1 billion.
MQP is leading the marketing and the R & D of high efficiency grain refiner
In cooperation and partnership, Optifine grain refiner offers:
Ex stock supply from warehouse facilities in Europe, China and USA
Technical support on site for introduction and implementation of Optifine
European Quality Control by MQP Opticast laboratories based in Sweden and Oxford University
An efficient low-cost, state of the art, manufacturing base
Backed up by R&D in partnership with Brunel University